Store
Everything DiSC® Workplace
Create more effective and productive working relationships
Learn your DiSC Style
Click below for a sample report
Uses: Team building, employee communication, conflict management, motivation, productivity, career development.
Understand and appreciate the styles of the people you work with. Create strategies for overcoming challenges when working with people of different DiSC® styles.
Stand-alone profile for ANYONE in the workplace, regardless of role or title.
20-page workplace-specific report that focuses on your job priorities and strengths as well as those of others.
Provides clear strategies for building more effective relationships.
What is DiSC?
Sample Report
Take Assessment
Read All About It!
100% Practical Insights You Can Use. Management, Executive And Leadership Training That Works.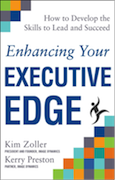 NEW RELEASE!
Enhancing Your
Executive Edge
Kim Zoller and Kerry Preston know for sure that in today's competitive world you have to have Executive Edge if you want to get ahead in your career.
Click a Partner Link Below to Purchase Now
Amazon.com
BN.com
800CEORead.com