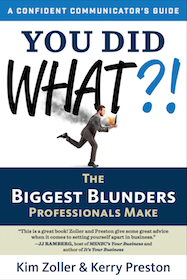 A study of thousands of fired employees, conducted by Harvard University's Bureau of Vocational Guidance, revealed that for every one person fired for performance-related issues, two lost their jobs for failure to deal successfully and professionally with other people.
Setting yourself apart in today's highly competitive business environment takes thought and planning. Not only must you have excellent job skills, you must also have excellent people skills.
You Did What?! gives you solid techniques that can be used right away to achieve effective results..